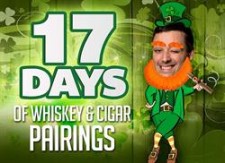 Online, March 12, 2016 (Newswire.com) - EASTON, PA - Cigar Advisor has just published a new article entitled "17 Whiskey and Cigar Pairings for St. Patrick's Day," by Copywriter Jonathan Detore. Cigar Advisor is an online cigar magazine that brings a fresh, irreverent, and down-to-earth perspective on all things cigars to thousands of smokers. In addition to educational cigar content and behind-the-scenes cigar industry articles from some of the business's top names, Cigar Advisor delivers an array of content about a variety of topics of interest to people who enjoy the cigar lifestyle.
Author Jonathan Detore was inspired by a personal tradition. He writes "The inspiration behind my suggestions come from a little tradition of mine called "The 31 Days of Whiskey," where I enjoy a drink of whiskey every day for the entire month. It just so happens that I also work at a cigar company that has a bar attached to it so I can have a smoke with my daily libation. It goes without saying that a few years of doing this has had me stumble upon a couple of amazing pairings that I feel are astounding and would recommend to my friends."
Throughout the article, the author lists a variety of cigars he has smoked along with his whiskey pairing of choice, and explains why he believes them to complement each other so well. Mentioned in the article are whiskeys such as Jameson, Bushmills, Teeling, and Red Breast among other manufacturers.
Jonathan Detore explains his list by telling us "The list is simply made up of cigars I truly love to smoke. From house brands to the top of the line hand-made premium cigars, it's all in there. As far as the pairings go, I didn't stick to just Irish Whiskey. It would be tragic to ignore the incredible whiskey industry we have right here in the United States as well as disregard Scotch whisky. The main point is to simply share new and exciting pairings that I enjoy with those who enjoy the same passions as myself of cigars and whiskey."
Cigar Advisor magazine is a digital publication created for real cigar enthusiasts who love tobacco and live the lifestyle. Cigar smokers are passionate about almost everything they do -- whether it's the drinks they savor, the food they devour, the cars and motorcycles they dream of, the sports they're fanatical about or the women they love, Cigar Advisor shares those passions with a razor-sharp edge, soaking up each day and experience as if it were our last. For those interested in learning more about Cigar Advisor, log on to Cigaradvisor.com.
Image Available: www.marketwire.com/library/MwGo/2016/3/11/11G087201/Images/CACover_17DaysWhiskeyCigarPair-sm-e04390d60a9a92c1bfaad9b03d23bfd1.jpg
Source URL: http://www.marketwired.com/mw/release.do?id=2105371&sourceType=3
Share: