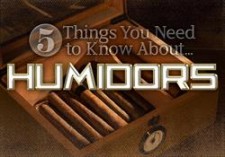 Online, August 23, 2015 (Newswire.com) - EASTON, PA - Cigar Advisor is an online cigar magazine that brings a fresh, irreverent, and down-to-earth perspective on all things cigars to thousands of smokers. In addition to educational cigar content and behind-the-scenes cigar industry articles from some of the business's top names, Cigar Advisor delivers an array of content about a variety of topics of interest to people who enjoy the cigar lifestyle. Cigar Advisor has just published a new article entitled "5 Things You Need to Know About Humidors."
Author Jonathan Detore's "5 Things You Need to Know About Humidors" article is an inside look on the history behind humidors, as well as an informational piece as to what a humidor's purpose is, what it is made out of and why, and other informative points of interest.
In the article, Jonathan Detore writes, "Cigars are a pretty hefty investment no matter how you cut it. From $20 bundles to $300 boxes, if you have a 100 count humidor, you're looking at a minimum of a few hundred bucks easily when you're fully stocked. I don't know about you, but to me, that's a good amount of dough. But alas, I love my cigars, and to properly save my investment from drying up and going bad, I have a pretty decent humidor that keeps all my tiny bars of brown gold safe. And if you care about cigars, you need to get yourself educated about humidors."
Included in the article are 5 points of interest that have been researched by the author that he believes to be entertaining while also being educational. Jonathan says on the article "I was really going for a mix between making the article fun to read while also bringing in information that the reader may not have known, such as why Spanish Cedar is used. Did you know Spanish Cedar prevents cigar beetles? I sure as heck didn't, and I'm sure there are a lot of cigar enthusiasts out there that may not have known either. My job is to educate, but there's nothing that says I can't educate in a fun way." [Click Here For the Full Article]
Cigar Advisor magazine is a digital publication created for real cigar enthusiasts who love tobacco and live the lifestyle. Cigar smokers are passionate about almost everything they do -- whether it's the drinks they savor, the food they devour, the cars and motorcycles they dream of, the sports they're fanatical about or the women they love, Cigar Advisor shares those passions with a razor-sharp edge, soaking up each day and experience as if it were our last. For those interested in learning more about Cigar Advisor, log on to www.cigaradvisor.com.
Image Available: www.marketwire.com/library/MwGo/2015/8/20/11G051349/Images/5-things-humidors_8.24.15-965105684799.jpg
Embedded Video Available: www.youtube.com/watch?v=I7_kSfhgYoQ
Source URL: http://www.marketwired.com/mw/release.do?id=2049683&sourceType=3
Share: