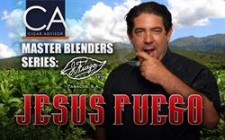 Online, August 6, 2015 (Newswire.com) - EASTON, PA - "As the man behind some of the best premium cigars for the past quarter of a century, you could say that Jesus Fuego was born to make cigars," writes CigarAdvisor executive editor, Gary Korb in the prologue to his interview with master blender Jesus Fuego. Born to a Cuban tobacco growing family, Jesus learned about tobacco at a very young age. The Fuego's were part owners of the famed "El Corojo" farm in Cuba's Vuelta Abajo region where Jesus's early education came from two of the best tobacco men in the business: his father and their neighbor, Nestor Plasencia Sr.
Today, at 44 years old, Jesus is the fifth generation of his family in the premium handmade cigar business and the founder of Tabacos S.A. where his J. Fuego Cigar Co. has produced some of the most critically-acclaimed premium cigars in the industry. Among them are the J. Fuego Gran Reserva Corojo No.1, J. Fuego Americana, Sangre de Toro, and his most recent release, J. Fuego Heat.
In this CigarAdvisor.com interview, Jesus discusses several of his latest projects. Having previously blended The Judge cigars for Famous Exclusives, he will be re-blending the Famous Exclusives VUDU cigars, and is making the first two VUDU line extensions VUDU Black and VUDU Sacrifice.
When asked how VUDU Sacrifice was coming along, Jesus said, "I'm taking my time with it. Famous is not easy to please, and I know they want happy customers. We have narrowed it down to a couple of really good blends that are aging as we speak, and will be tried by a lot of people at both Famous and J. Fuego. Only then we will know that we have a winner."
In many respects, Jesus was one of the first makers of "boutique cigars." Responding to a question about the increasing number of artisan cigars that have entered the market, Jesus says, "It's the nature of the beast. A glamorous industry, a free market, and creative people all make for a good cocktail. I think there is room for new people with fresh ideas and concepts."
Jesus Fuego is also known for the high-quality Corojo tobacco used in his blends. Newer cigar smokers who are still learning about the world of premium cigars will appreciate his explanation on the difference between Corojo and Criollo tobaccos, native Cuban strains that can sometimes be confusing.
Speaking to his success as blender and manufacturer, "The American consumer is very pragmatic and well-educated," said Jesus. "We are a very serious family when it comes to protecting the quality of our product. A little over 20 years ago in Cuba, when I saw the first cigar magazines from the U.S. writing about the big manufacturers, my dream was to one day have the chance to work for one of them. Now, I'm competing with the same guys I once dreamed of working for. Now that my cigars are getting rated, and my work is being recognized in those same magazines, once in a while I get lucky; some smoker somewhere decides to make time to smoke one of my cigars when there are so many other options."
To read the entire article, [Click Here]
About Cigar Advisor Magazine
Cigar Advisor magazine is a digital publication created by, and for, real cigar enthusiasts. The Editors strive every day to accomplish three goals: welcome novices to the hobby of cigar smoking with advice and open arms; share their tobacco-rich lifestyle with good friends and veteran smokers alike; and profess their love for a good smoke with cigar enthusiasts of all stripes, from around the world. Cigar smokers are a passionate bunch -- and whether it's food, drink, sports or cigars they're fanatical about, Cigar Advisor shares those passions with a razor-sharp edge. Find that passion and more on display at CigarAdvisor.com.
Image Available: www.marketwire.com/library/MwGo/2015/8/5/11G049758/Images/Cover_MB_Fuego-sm-1228564256360.jpg
Source URL: http://www.marketwired.com/mw/release.do?id=2046139&sourceType=3
Share: