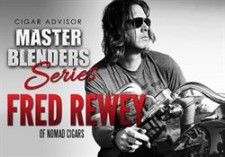 Online, November 4, 2015 (Newswire.com) - EASTON, PA - Sometimes you just have to follow your passion. That's what Fred Rewey, founder of Nomad Cigars did when he decided to make a go of it in the premium handmade cigar business. Famous Smoke Shop, the leading online distributor of discounted premium cigars, specializing in offering the web's widest selection of cigars at the lowest prices, presents another CigarAdvisor.com podcast hosted by Gary Korb, who recently spoke to the Wisconsin native who looks more like a rock band front man than your average master tabaquero.
"Listeners will learn that it takes a lot more than just buying a lot of tobacco and finding a factory that will roll it into cigars to start your own brand," said Korb.
Rewey, a marketing executive who discovered his passion for premium cigars more than 15 years ago, started out as "simply an appreciative cigar smoker," like many cigar enthusiasts. However, in Fred's case, his curiosity, along with his inherent urge to travel (which is why his brand is called "Nomad"), convinced him to visit the Dominican Republic and Nicaragua to see first-hand how cigars are made and talk to the people who make them. After three years of learning the art & science of tobacco growing and blending by actually working alongside masters of the craft, and experimenting with practically every type of tobacco he could get his hands on, Fred launched Nomad Cigars.
To-date, the Nomad cigars stable includes the Estelí Lot 8613, C-276, and S-307 cigars, which are made in Nicaragua, and the Nomad Classic D.R. (a.k.a., "Nomad Classic") and Connecticut Fuerte made in the Dominican Republic. The company's most recent release is the Nomad Therapy cigars selection, and all of the above sell for less than $10 a cigar.
"I intentionally price my cigars under $10," says Fred. "Cigar smokers are very sensitive to price, and I know I can produce a great cigar without it having to cost so much."
In spite of his success with Nomad, Fred still sees himself a typical cigar smoker, and in order to share his knowledge with other cigar smokers, he's also developed a hands-on seminar about blending called "Hacking the Blend," which he presents at cigar stores and lounges all over the country. Attendees get to see, feel and taste a variety of tobacco leaves so they can acquire a better understanding of how different leaves work together in a blend. This also helps them develop a greater appreciation for the cigars they choose to smoke.
"During the podcast, listeners will get to know Fred, and may even be inspired to follow their own entrepreneurial path," said Korb. "The rave reviews from the cigar media and the consumer word-of-mouth that have helped Nomad Cigars get to where it is today may not have made Fred a millionaire, but he's OK with that, because right now, he's much happier knowing that cigar smokers have responded so well to his Nomad brands."
Listen to the podcast here.
About Famous Smoke Shop
Famous Smoke Shop is the nation's #1 discount retailer of premium cigars online, offering one of the largest selections of handmade cigars, machine-made cigars, cigar humidors, and accessories. Famous offers the web's lowest prices on a wide selection of cigar brands including Acid, Davidoff, Macanudo, Romeo y Julieta, Ashton, Padron, Oliva and Perdomo cigars, and many more. Famous offers their customers the best prices on all premium cigars as well as friendly and knowledgeable customer service.
Image Available: www.marketwire.com/library/MwGo/2015/11/3/11G070431/Images/CACover_Rewey-7d4c02adc022a83ea28de74966cd2afa.jpg
Source URL: http://www.marketwired.com/mw/release.do?id=2070542&sourceType=3
Share: