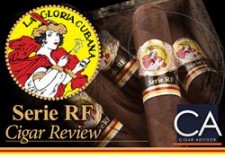 Online, August 2, 2015 (Newswire.com) - EASTON, PA - Cigar Advisor, the nation's premiere online cigar magazine, proudly serves cigar enthusiasts with a uniquely down-to-earth perspective on the enjoyment of premium cigars. Well-known and highly regarded for providing acclaimed educational cigar content and behind-the-scenes industry articles from some of the business's top names, the Cigar Advisor editors deliver an array of content that speaks directly to those who enjoy the cigar lifestyle.
"In my opinion, this full-bodied beast sure ain't a breakfast smoke," says Tommy Zman about the new La Gloria Cubana Serie RF cigars. The Zman is specifically referring to the Serie RF No.13 robusto that the CigarAdvisor.com cigar review panel has just debuted on their YouTube page.
Created exclusively for Famous Smoke Shop by Michael Giannini of Team La Gloria, the La Gloria Cubana Serie RF follows Famous's La Gloria Cubana Gilded Age cigars with a full-bodied blend of Dominican & Nicaraguan long-fillers, Connecticut Havano binder, and an Ecuadorian Habano wrapper. The "F" in the cigar's name is a reference to the 12th& 13th century Italian mathematician, Leonardo Bonacci, better known as "Fibonacci." His 1202 book Liber Abaci introduced his famous integer sequence to Western European mathematics, which is directly related to the golden ratio. In the video, Cigar Advisor editor John Pullo attempts to explain this in layman's terms. "If you can't remember Fibonacci," says Gary Korb, "think that the 'F' stands for "Famous." The numbers 0, 13, 21, and 34, which are included in the sequence, are also the names of the four sizes presented in the La Gloria Cubana Serie RF edition.
Without giving away too many spoilers, the panel's evaluation of the spicy, front-loaded tobaccos was unanimous. In referring to why he didn't retrohale the cigar (to blow cigar smoke out through the nose), Jonathan Detore said, "There was so much spice, I was afraid I'd blow my sinuses clear out the back of my head if I tried." John Pullo compared the pepper hit during the first half-inch or so to "what a big heap of wasabi does to your senses…It hurts so good, yet you find yourself going back for more." Added the Zman, "Yes indeed, this stick is front-loaded with potent ligero goodness and lets you know that you are indeed smoking a great cigar." That said, the panel was also united in saying that the Serie RF's spicy flavor profile should not "scare" cigar smokers away from trying it.
"I would recommend the La Gloria Serie RF No.13 to those who can really appreciate a full-bodied and complex cigar," said Korb, who added, "Novices ready to make the jump to dark, full-flavored cigars with a serious dose of spice will not be overpowered by it. It might take a couple of rounds with the 'RF' to adjust their palates (and their heads)."
To watch the entire review and read each panel member's individual notes on the La Gloria Serie RF No.13, click here.
About Cigar Advisor Magazine
Cigar Advisor magazine is a digital publication created by, and for, real cigar enthusiasts. The Editors strive every day to accomplish three goals: welcome novices to the hobby of cigar smoking with advice and open arms; share their tobacco-rich lifestyle with good friends and veteran smokers alike, and profess their love for a good smoke with cigar enthusiasts of all stripes, from around the world. Cigar smokers are a passionate bunch -- and whether it's food, drink, sports or cigars they're fanatical about, Cigar Advisor shares those passions with a razor-sharp edge. Find that passion and more on display at CigarAdvisor.com.
Image Available: www.marketwire.com/library/MwGo/2015/7/30/11G049275/Images/SerieRF-Review_7.30.15-926985266784.jpg
Embedded Video Available: www.youtube.com/watch?v=8Y8lIpBCdBA
Source URL: http://www.marketwired.com/mw/release.do?id=2044355&sourceType=3
Share: