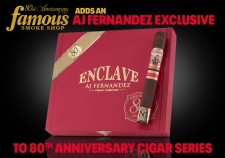 Limited Edition Box-pressed Toro Makes This Cigar a Rare Find
EASTON, Pa., September 10, 2019 (Newswire.com) - Continuing their ongoing celebration of 80 years as the nation's leading retailer of premium cigars online, Famous Smoke Shop, in partnership with AJ Fernandez Cigar Co. has introduced the AJ Fernandez Enclave Broadleaf Famous 80th cigar. Only 300 boxes of 10 cigars were produced for the occasion. Add to that the high rating scores the Enclave Broadleaf selection has received of late, and Famous expects this limited-edition anniversary cigar to sell out rather quickly.
Using Nicaraguan long-fillers at the core, the cigars are finished with a dark, toothy Connecticut Broadleaf wrapper and box-pressed in a 6" x 50 Toro format. In addition to the neckband, a second, "80th Anniversary" band is placed at the foot of the cigar. Like all of the cigars in the AJ Fernandez Enclave Broadleaf selection, this cigar puts the emphasis on flavor and the smoking experience, itself. The smoke is full-bodied, well-balanced, and spicy with notes of earth, pepper, cedar, and sweet tobacco from top to bottom. Moreover, the original Enclave Broadleaf line is not box-pressed, making the Famous 80th Anniversary a true one-off.
So, how did AJ come to create this special anniversary cigar for Famous Smoke Shop? As the story goes. . . During a trip to Nicaragua last year, Famous Smoke Shop CEO, Arthur Zaretsky, Purchasing Director, Jim Charnley, and AJ were talking about the industry. Arthur reminded AJ about how they had met many years earlier, how far both companies have come since those days, and how much the relationship they've built means to them.
"This is such an unpredictable business," Arthur said to AJ. "Back then, I wasn't sure what the future would hold for you, but I'm so happy for your success."
As the conversation ensued, AJ mentioned that the Enclave Broadleaf selection is one of his favorite blends. So, in honor of the company's 80th anniversary, AJ said he would do an Enclave Broadleaf in a box-pressed Toro format exclusively for Famous.
Made in limited edition, only 300 boxes of AJ Fernandez Enclave Broadleaf Famous 80th cigars were produced for the occasion, with each box containing 10 cigars.
"We have gotten to know AJ and his team very well, and really enjoy working with them. When we're in Nicaragua they treat us like family. So we knew going into the planning of this 80th series, we had to work with AJ on one. The AJ Enclave Broadleaf Famous 80th came out so well; not a surprise coming from AJ. We're very excited to have this exclusive that will surely appeal to the thousands of AJ Fernandez cigar smokers worldwide," said Mr. Charnley.
AJ Fernandez Enclave Broadleaf Famous 80th
Size: 6" x 50 Toro, box-pressed
Wrapper: U.S. Connecticut Broadleaf Maduro
Binder & Filler: Nicaragua
Presentation: Box of 10 limited edition cigars (Only 300 boxes made.)
Famous Retail Price: $81.99/box; $9.00/single
Find more information on the AJ Fernandez Enclave Broadleaf Famous 80th here
About Famous Smoke Shop
Celebrating its 80th year in business, Famous Smoke Shop is the nation's #1 discount retailer of premium cigars online, offering one of the largest selections of handmade cigars, machine-made cigars, cigar humidors and accessories. Famous offers the web's lowest prices on a wide selection of cigar brands including Acid, Davidoff, Macanudo, Romeo y Julieta, Ashton, Padron, Oliva and Perdomo cigars, and many more. Famous offers their customers the best prices on all premium cigars as well as friendly and knowledgeable customer service.
Famous Smoke Shop
90 Mort Drive
Easton, PA 18040
800-564-2486
Source: Famous Smoke Shop
Share: