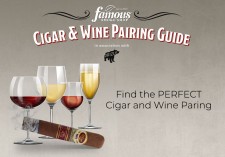 New Online Resource Offers an Easy, Intuitive Way to Pair Cigars with Practically Any Wine
EASTON, Pa., June 4, 2018 (Newswire.com) - Famous Smoke Shop the nation's #1 discount retailer of premium cigars online, has just rolled out their new interactive Cigar & Wine Pairing Guide. Created in partnership with Drizly, one of the leading online liquor retail stores, the pairing guide offers expert picks spanning 72 popular cigar and wine combinations with concise descriptions in an easy-to-use interface. All of the recommended cigar and wine pairings were judiciously chosen by the experts at Famous Smoke Shop and Drizly and feature cigars selected from both major and boutique manufacturers, while the wines extend to international and domestic varietals.
Performing with the same easy-to-use functionality as Famous Smoke Shop's Cigar & Spirits Pairing and Cigar & Beer Pairing guides, cigar smokers can quickly find their cigar and wine pairings by clicking on the "Find a Cigar" button, then choosing the type of wine that piques their interest – Red, White, Port, or Bubbly, followed by the varietal, such as Cabernet for Red, Chardonnay for white, Tawny for Port, and so on. After that, they can choose one of six witty "scenarios" that reveal the recommended pairing.
By taking the guesswork out of pairing cigars and wine, even the most modest amateur can feel like an expert.

John Lamberti , Famous Smoke Shop Marketing Director
"The best thing about the Cigar and Wine Pairing Guide is that you don't have to be an 'aficionado,'" said Famous Smoke Shop's Digital Marketing Director, John Lamberti. "By taking the guesswork out of pairing cigars and wine, even the most modest amateur can feel like an expert."
For example, by choosing a red Port with the "Absolute favorite meal" scenario, it takes less than a minute for the Guide to recommend pairing a Montecristo Relentless Churchill with a Taylor Fladgate Fine Ruby Porto. Moreover, the results page displays the cigar's blend information, a brief review of the cigar, the retail price, its Famous customer rating, plus links to more customer reviews and other Montecristo cigars. Displayed below is a description of the wine and a link to the selection on the Drizly site with more detailed information. Another big advantage to cigar smokers is the Guide gives them easy purchase options for the cigar and wine recommendations from Famous Smoke Shop and Drizly, respectively.
To name but a dozen of the numerous cigar brands recommended in the Guide, they include Padrón, Avo, Romeo y Julieta, Arturo Fuente, Perdomo, Oliva, ACID, La Gloria Cubana, Joya de Nicaragua, Rocky Patel, Crowned Heads, and Southern Draw, while the myriad wine selections include varietals by Dow's, Ecco Domani, Chateau Ste Michelle, Kendall-Jackson, Moet & Chandon, Kim Crawford, and Cockburn's.
"The pairing guide reaches out to another important segment in our overall online content," added Mr. Lamberti. "Combined with our pairing guides for spirits and beer, it's the best way for cigar smokers to complement any special occasion with a great wine and the perfect cigar."
See the complete Famous Smoker Shop Wine Pairing Guide here
About Famous Smoke Shop
Famous Smoke Shop is the nation's #1 discount retailer of premium cigars online, offering one of the largest selections of handmade cigars, machine-made cigars, cigar humidors, and accessories. Famous offers the web's lowest prices on a wide selection of cigar brands including Acid, Davidoff, Macanudo, Romeo y Julieta, Ashton, Padron, Oliva and Perdomo cigars, and many more. Famous offers their customers the best prices on all premium cigars as well as friendly and knowledgeable customer service.
Famous Smoke Shop
90 Mort Drive
Easton, PA 18040
800-564-2486
Source: Famous Smoke Shop
Share: