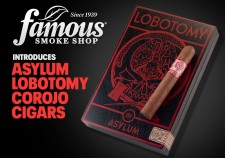 New Collection Boasts a 100% Authentic Corojo Blend
EASTON, Pa., February 25, 2020 (Newswire.com) - ​​Famous Smoke Shop, the leading online distributor of discounted premium cigars, has announced the release of the Lobotomy by Asylum Corojo cigars. Medium to full in body, the blend features all-Nicaraguan authentic Corojo leaf binder and filler rolled in a Jamastran authentic Corojo wrapper grown in Honduras. Like the original Lobotomy by Asylum released in 2016, the new line extension was made in collaboration with Asylum Cigar Company founders, Tom Lazuka and Christian Eiroa, and will be sold exclusively through Famous Smoke Shop.
"The Lobotomy Corojo is a 100% authentic Corojo cigar – binder, filler and wrapper," said Asylum Cigars' Tom Lazuka. "The reason we did the authentic Corojo wrapper is that the main tobacco we grow in Honduras represents Christian, his father Julio, and our company. Since my start in the cigar business, this is the tobacco I was basically brought up on. We are able to do so much with this tobacco; from full bodied to smooth, earthy and sweet. If I had to pick one tobacco to only smoke the rest of my life it would be our authentic Corojo from Honduras."
Presented in boxes of 10 cigars, 5-packs, and singles, the Lobotomy by Asylum Corojo is offered in the same three sizes as the original Lobotomy collection, 770 (7 x 70), Double Toro (6x 60), and Toro (6 x 52), but is distinguished by red boxes and bands.
Speaking about how they came up with the idea for the Corojo collection, Famous Smoke Shop Private Label Buyer, Michael Klingerman, said, "The original Lobotomy by Asylum is one of our tastiest and best-selling private labels. During a conversation with Tom, we brought up the idea of combining this successful blend with Christian's legendary Corojo wrapper to see what the taste would be. It only took a few tweaks to create a blend that combines the full-flavored medium strength of the original but amps it up with the unique spicy, peppery, and earthy qualities of prime Corojo tobacco."
"Depending on the fermentation, aging, etc., we can really make a complex cigar with the same tobacco," added Mr. Lazuka. "I don't think there is anything else quite like it."
Lobotomy by Asylum Corojo Collection:
Wrapper: Authentic Jamastran Corojo (Honduras)
Binder & Filler: Authentic Nicaraguan Corojo
Strength: Medium - Full
Presentation: Box of 10 limited edition cigars, five-packs, and singles
Retail Price: $6.80 - $7.80 per cigar (at press time)
Those interested in learning more about Asylum Lobotomy Corojo cigars or Famous Smoke Shop should visit www.Famous-Smoke.com or call 800-564-2486.
Source: Famous Smoke Shop
Share: