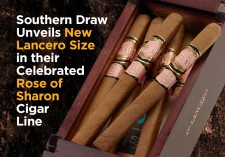 Southern Draw Cigars Taps Valued Retail Partner for Limited-Time Exclusive on New Release
Easton, PA, January 15, 2018 (Newswire.com) - ​Lancero cigars are trending again. That's good news for Robert and Sharon Holt, founders of Southern Draw Cigars, who have just announced the addition of a Lancero to their bestselling Rose of Sharon cigars selection. The 6½-inch by 40-ring vitola has a soft box-pressed profile and is now available in boxes of 20 cigars and 5-packs.
Sharing the spotlight with Southern Draw is Famous Smoke Shop, the largest American-owned distributor of premium cigars online, which has been given an exclusive, limited-time initial release period. Last December, the Pennsylvania-based cigar retailer was also given a limited-time exclusive for the release of Southern Draw's QuickDraw Corona Gorda cigars.
"We have been blessed by the consumer reception of the Rose of Sharon since its release last year"

Sharon Holt, Co-Owner of Southern Draw Cigars
"When Robert proposed having Famous Smoke Shop partner again with Southern Draw on the initial release of the Rose of Sharon Lancero, the only answer was, 'of course!'" said Famous Smoke Shop's Director of Purchasing, Jim Charnley. "We are thankful for our ongoing partnership with Robert and Sharon and look forward to many more special projects in the future."
A Unique Smoking Experience
Introduced in 2017, the Rose of Sharon selection has received both retail success and critical acclaim, including a slot for the Rose of Sharon Toro (6"x52) in Cigar Advisor's "Top 25 Best New Cigars of 2017."
"We have been blessed by the consumer reception of the Rose of Sharon since its release last year," said Sharon Holt, aka the 'Rose of Sharon.'
This year, the Rose of Sharon Lancero will add a splash of elegance to the line, which is distinguished by a savory Nicaraguan-Dominican core blend and an Ecuadorian Sun Grown Connecticut wrapper from a rare harvest that saw over 300 days of heavy cloud cover. The result was a flawless, silky-smooth leaf with a richer flavor and a light blonde, shade-grown-like patina. Moreover, due to the Lancero's slender measurements, the wrapper will play a bigger role in the cigar's flavor profile.
"Highlighted by its beautiful Connecticut wrapper, I found this refined lancero size offers a unique smoking experience that elevates the flavors of the Nicaraguan binder and the Dominican Piloto Cubano ligero filler," said Sharon. "The cigar also has a hand and mouth feel that I think most consumers will find very comfortable, even if it's a size they don't ordinarily smoke."
A Fair Smoke at a Fair Price
"She don't know she's beautiful" is the Rose of Sharon cigars mantra, and the new Lancero is also representative of Southern Draw's commitment to growing their portfolio of slimmer cigars.
"Together with our partners at AJ Fernandez Cigar Co., we are dedicated to changing the perception of historical draw and burn issues experienced with many thin cigars," said Robert Holt. "We've also addressed value perception. Despite the fact that lanceros are among the hardest and most expensive cigars to roll, we are offering our lanceros at the same price as our robusto-size cigars." And considering the caliber of the tobaccos and handcraftsmanship, at under $10 per cigar, the new Lancero has been positioned at a very reasonable price.
"I believe that when they're consistent and priced favorably, Lanceros are destined to become the new classic size," added Robert.
Due to the high demand for Southern Draw cigars, and the growing interest in this traditional format, the new Southern Draw Rose of Sharon Lancero cigars will create high demand. This initial release will only be available at Famous Smoke Shop, with wider availability at a later date. For the best and most immediate service, visit famous-smoke.com to purchase from this limited allotment of cigar stock.
Southern Draw Rose of Sharon Lancero
Factory: Tabacalera Fernandez
Strength: Medium
Size: 6½" x 40
Wrapper: Ecuadorian Sun Grown Connecticut
Filler: Nicaraguan Viso/Seco, Dominican Ligero/ Piloto Cubano
Binder: Nicaraguan
Famous Prices: $168.99/box of 20, $42.99/5-pack, $9.35/cigar
See more information on Southern Draw Rose of Sharon Lancero cigars here.
About Southern Draw Cigars
Southern Draw Cigars - A Veteran Owned and Operated premium cigar brand that offers only hand crafted cigars from patiently aged, naturally fermented tobaccos. Produced in Estelí, Nicaragua and distributed from our home state of Texas. More information may be found at www.southerndrawcigars.com or Southern Draw Cigars on Facebook, @sdcigars on Instagram and Twitter.
About Famous Smoke Shop
Famous Smoke Shop is the #1 American-owned discount cigar retailer, home to the lowest prices on the largest selection of premium cigars, humidors and cigar accessories in the country. With over one thousand cigar brands in stock, including Southern Draw, Acid, Davidoff, Macanudo, Romeo y Julieta, Ashton, Padron, Oliva and Perdomo cigars, cigar smokers shop at Famous Smoke Shop with confidence: every purchase is backed by the Famous Freshness Guarantee and award-winning customer service.
Source: Famous Smoke Shop
Share: