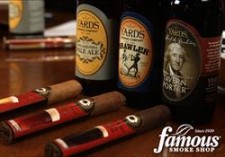 Online, October 13, 2015 (Newswire.com) - EASTON, PA - Famous has just released the second in a series of three cigar and beer pairing review videos featuring the highly anticipated Perdomo Craft Series Amber and Yards Brawler Puglist Style Ale in association with their digital cigar and men's lifestyle magazine Cigar Advisor. Cigar Advisor brings a fresh, irreverent, and down-to-earth perspective on all things cigars to thousands of smokers. In addition to educational cigar content and behind-the-scenes cigar industry articles from some of the business's top names, Cigar Advisor delivers an array of content about a variety of topics of interest to people who enjoy the cigar lifestyle, including pairing review videos such as this one.
Perdomo Craft Series Amber is the second in a line of three cigars that have been blended to pair specifically with a particular range of beers in mind. This cigar, also called the Perdomo Craft Series Sun Grown, is meant to pair well with beers that have malt forward notes and lighter hoppy or floral notes on the back end. Some examples of beer styles would be mild to medium bodied IPAs, heavier pale ales, Märzenbier (also known as Oktoberfest), and of course, Lagers and Ales of almost all varieties. The Amber uses all Nicaraguan tobaccos, including Cuban seed longfillers from Esteli for strength, Condega binder for some sweetness, and a spicy-sweet Jalapa sun grown wrapper for added complexity and flavor. The result is a powerhouse of a cigar that is around a medium-full bodied smoke. It's perfect for anyone who enjoys flavorful mild bodied cigars looking to try a stronger cigar with a lot of flavor, or for veteran full bodied smokers. As part of this review, Famous Smoke Shop's Cigar Advisor team has partnered up with Yards Brewing Company in Philadelphia, Pennsylvania to pair with the cigar.
Yards Brewery Company was founded in 1994 with the specific goal of making beers that appealed to the common beer drinker who had become bored with the usual mass produced offerings available across the nation. Their attention to detail and passion for brewing has earned them extremely high rankings across the industry, and has cemented them as a favorite in the craft beer industry. Since then, they have become an unstoppable juggernaut, churning out new lines annually that appeal to those who appreciate craft beers. The Brawler is a malt forward Puglist Style Ale that appeals to those who enjoy traditional lagers or ales, while also appealing to IPA drinkers for the pleasant yet not overpowering floral/hoppy notes found in this remarkable Ale. Since its first batch hit the taps, the Brawler has seen massive demand and has quickly become a regular on tap throughout Yard's wide area of distribution.
Cigar Advisor reviewer and Copywriter Jonathan Detore remarked, "There's nothing bad I can say about the Perdomo Craft Series Sun Grown. The ideology behind creating this blend hits on everything for me. It's full of flavor, the construction is perhaps the best I've ever experienced, and the complexity is out of this world. It's far and few in between where you find a smoke that hits on a slew of flavor notes in the first half, and then completely changes in the second half. And to pair it with the Brawler which is such an all-encompassing ale was a real treat. No matter where the cigar went in terms of flavor, the Brawler kept up the pace and enhanced my smoke to no end. If pairings were ranked, this would be in the top 5. Hands down."
Perdomo Craft Series Amber cigars are available at Famous Smoke Shop, and is packaged in boxes of 24 cigars a piece. Each of these Sun Grown wrapped cigars comes in your choice of a 5 ½ x 54 Robusto, 6 ½ x 54 Epicure, 7 x 54 Churchill, and 6 x 60 Gordo with an individual MSRP ranging from $7.00 to $8.50 per cigar. People interested in learning more about the Perdomo Craft Series line of cigars or Famous Smoke Shop should visit www.Famous-Smoke.com or call 800-564-2486. For those interested in learning more about Cigar Advisor, log on to www.cigaradvisor.com, and for those looking for more information on Yards Brewing Company, log on to www.yardsbrewing.com.
Image Available: www.marketwire.com/library/MwGo/2015/10/13/11G067400/Images/Perdomo_1_(002)-1443140507252.jpg
Embedded Video Available: www.youtube.com/watch?v=4yZka893low
Source URL: http://www.marketwired.com/mw/release.do?id=2063615&sourceType=3
Share: