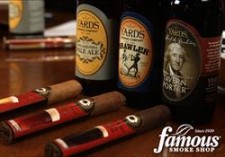 Online, October 6, 2015 (Newswire.com) - EASTON, PA - Famous has just released the first in a series of three cigar and beer pairing review videos featuring the highly anticipated Perdomo Craft Series Pilsner and Yards Philadelphia Pale Ale in association with their digital cigar and men's lifestyle magazine Cigar Advisor. Cigar Advisor is an online cigar magazine that brings a fresh, irreverent, and down-to-earth perspective on all things cigars to thousands of smokers. In addition to educational cigar content and behind-the-scenes cigar industry articles from some of the business's top names, Cigar Advisor delivers an array of content about a variety of topics of interest to people who enjoy the cigar lifestyle, including pairing review videos such as this one.
Perdomo Craft Series Pilsner is the first in a line of three cigars that have been blended to pair specifically with a particular range of beers in mind. This cigar, also called the Perdomo Craft Series Connecticut, is meant to encompass anything from light crisp beers such as a white ale, light lagers, and, as the name suggests, pilsners. The Pilsner is blended using a naturally sweet Nicaraguan binder from the Jalapa Valley, rich Nicaraguan fillers from the Condega Valley, and a U.S. Connecticut wrapper for a taste that is both complex and massively satisfying. As part of their review, Cigar Advisor has partnered up with Yards brewery in Philadelphia, Pennsylvania to pair with the cigar.
Yards Brewery Company was founded in 1994 with the specific goal of making beers that appealed to the common beer drinker who had become bored with the usual mass produced offerings available across the nation. This mindset and way of crafting delicious beer and quickly gave them status as a local favorite. Since then, they have become an unstoppable juggernaut, churning out new lines annually that appeal to those who appreciate craft beers. The Philadelphia Pale Ale is a crisp refreshing brew with a light hoppy taste and a clean finish. Perfect to drink responsibly all day or after a light meal, this brew has become a staple in nearly every bar in the "City of Brotherly Love."
Cigar review panelist and Famous Smoke Shop Graphic Designer Kevin Beck said of the cigar, "The Perdomo Craft Series is a really great concept, and the Pilsner is a fantastic starting off point. It may look tame, but this is a full flavored, medium bodied smoke all the way through. Just when you think you have a hold on the flavors, it changes on you. Even from the first puff, you're immediately hit with a blast of flavor. Pairing it with the Philadelphia Pale Ale just sent this smoke over the edge. It pairs perfectly, and enhances some of the deeper flavors held within the cigar. In a word, this pairing is perfect."
[Click Here to View Full Video Review]
Perdomo Craft Series Pilsner cigars are available at Famous Smoke Shop, and is packaged in boxes of 24 cigars a piece. Each of these Connecticut wrapped cigars comes in your choice of a 5 ½ x 54 Robusto, 6 ½ x 54 Epicure, 7 x 54 Churchill, and 6 x 60 Gordo with an individual MSRP ranging from $7.00 to $8.50 per cigar. People interested in learning more about the Perdomo Craft Series line of cigars or Famous Smoke Shop should visit Famous-Smoke.com or call 800-564-2486. For those interested in learning more about Famous Smoke Shop, log on to www.famous-smoke.com, and for those looking for more information on Yards Brewing Company, log on to www.yardsbrewing.com.
Image Available: www.marketwire.com/library/MwGo/2015/10/6/11G066610/Images/Perdomo_1_(002)-1362146088845.jpg
Embedded Video Available: www.youtube.com/watch?v=t54tKeah7R0
Source URL: http://www.marketwired.com/mw/release.do?id=2062059&sourceType=3
Share: