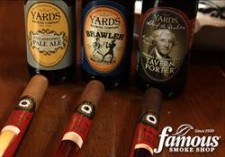 Online, October 20, 2015 (Newswire.com) - EASTON, PA - Famous has just released the final installment in a series of three cigar and beer pairing review videos featuring the highly anticipated Perdomo Craft Series Stout and Yards George Washington Tavern Porter. Famous Smoke in association with their digital cigar and men's lifestyle magazine Cigar Advisor brings a fresh, irreverent, and down-to-earth perspective on all things cigars to thousands of smokers. In addition to educational cigar content and behind-the-scenes cigar industry articles from some of the business's top names, Cigar Advisor delivers an array of content about a variety of topics of interest to people who enjoy the cigar lifestyle, including pairing review videos such as this one.
Perdomo Craft Series Stout is the third in a line of three cigars that have been blended to pair specifically with a particular range of beers in mind. This cigar, also called the Perdomo Craft Series Maduro, is meant to pair well with beers that are heavy and well-rounded such as a porter or stout. Each cigar is a Nicaraguan Puro comprised of a Cuban Seed longfiller core from Esteli, a binder from the Condega Valley, all wrapped in a tobacco leaf from the Jalapa Valley. Bold and rich flavors are to be expected from start to finish which is meant to go hand-in-hand with Yards Brewing Company's George Washington Tavern Porter from Philadelphia, Pennsylvania.
Yards Brewery Company was founded in 1994 with the specific goal of making beers that appealed to the common beer drinker who had become bored with the usual mass produced offerings available across the nation. Their attention to detail and passion for brewing has earned them extremely high rankings across the industry, and has cemented them as a favorite in the craft beer industry. From their Ales of the Revolution line comes the George Washington Tavern Porter, an almost identical replication of the Porter George Washington himself brewed. The flavors within the beer make it perfect choice to pair with the Perdomo Craft Series Maduro.
Cigar Advisor reviewer and Brand Ambassador Tommy Zarzecki said of the pairing, "I feel like an atomic flavor bomb got dropped right on my palate! I lit the cigar up and was blown away and the flavors and nuances of the beer just knocked it up a million notches. The idea behind the ales of the revolution is incredible, Yards has been brewing the beers of our Founding Fathers, so it's an incredible experience to taste what George Washington actually brewed. The pairing is insane. Absolutely insane."
Perdomo Craft Series Stout cigars are available at Famous Smoke Shop, and is packaged in boxes of 24 cigars a piece. Each of these Maduro wrapped cigars comes in your choice of a 5 ½ x 54 Robusto, 6 ½ x 54 Epicure, 7 x 54 Churchill, and 6 x 60 Gordo with an individual MSRP ranging from $7.00 to $8.50 per cigar. People interested in learning more about the Perdomo Craft Series line of cigars or Famous Smoke Shop should visit www.Famous-Smoke.com or call 800-564-2486. For those interested in learning more about Cigar Advisor, log on to www.cigaradvisor.com, and for those looking for more information on Yards Brewing Company, log on to www.yardsbrewing.com.
Image Available: www.marketwire.com/library/MwGo/2015/10/20/11G068333/Images/Perdomo_2-139310395864.jpg
Embedded Video Available: www.youtube.com/watch?v=lGl8E36r5sQ
Source URL: http://www.marketwired.com/mw/release.do?id=2065654&sourceType=3
Share: