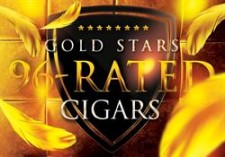 Online, September 17, 2015 (Newswire.com) - EASTON, PA - "Gone, hopefully, are the days when people showed up in a cigar store with a folded-open magazine, the ratings page dog-eared, and zero idea of what anything on the page even meant -- except that, 'this one got a 96!'" writes Cigar Advisor managing editor, John Pullo in his article, "Gold Stars: 96-Rated Cigars." Although those days may have begun to fade, despite the ongoing debate about whether cigar rating scores matter, the fact is, among many premium cigar consumers, they still do. But Mr. Pullo's article isn't concerned with the ratings reported in luxury lifestyle magazines aimed at "aficionados" which are scored by elite juries; he's referring to ratings by consumers themselves.
"When it comes to actual numbers, I like a crowdsourcing perspective," writes Pullo, "meaning a number of people who have put their collective palates to paper -- independently -- and see how it averages out. I [want] the opinions of people who don't have skin in the game; everyday cigar smokers who don't try to pass themselves off as 'super-tasters,' who like to try a variety of things, and who aren't going to tank a cigar's reputation with a bad score before it even comes to market."
In the unquestionably subjective world of cigar ratings, scores are generally based on the 100-point scale, and one would certainly be skeptical of any manufacturer who wasn't hoping for a "90" or higher on any cigar in his or her stable. Yet, Pullo points out that even good cigars get bad ratings.
"It depends on who does the rating," adds Pullo. "Some use common attributes like construction, draw and appearance, while others use esoteric terms like "smoking impressions" to try to quantify a feeling. Imperfect though it may be, the bottom line is that at least there's some sort of continuity when a final score is reached."
Mr. Pullo also suggests that when the aggregate score of a given cigar is as high as "96" across every form of media reportage from magazines, to bloggers, to the "average Joe," it's clear that the smoke in question "is going to have some damn fine properties."
Among the "96" consumer-rated cigars that are described in greater detail, readers will find the Ashton Virgin Sun Grown (VSG) Sorcerer, Joya Red Canonazo, La Aroma De Cuba Edición Especial #2, and the Perdomo Champagne Torpedo, to name a handful. Cigar smokers can also try all eight in a specially-made "96-Rated" cigar sampler.
"I'm still not crazy about the numbers game," writes Pullo, "but it's not disingenuous, either, to acknowledge when the volume of the numbers -- like those [of] these 8 cigars -- start to speak for themselves." To read Mr. Pullo's article in its entirety, click here.
About Cigar Advisor
Cigar Advisor, the nation's premiere online cigar magazine, proudly serves cigar enthusiasts with a uniquely down-to-earth perspective on the enjoyment of premium cigars. Well-known and highly regarded for providing acclaimed educational cigar content and behind-the-scenes industry articles from some of the business's top names, the Cigar Advisor editors deliver an array of content that speaks directly to those who enjoy the cigar lifestyle.
Image Available: www.marketwire.com/library/MwGo/2015/9/17/11G054395/Images/CACover_96-Rated_SM-1171155519880.jpg
Image Available: www.marketwire.com/library/MwGo/2015/9/17/11G054395/Images/96_rated_SamplerDeal_SM-181646288224.jpg
Source URL: http://www.marketwired.com/mw/release.do?id=2056674&sourceType=3
Share: