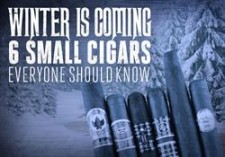 Online, November 15, 2015 (Newswire.com) - EASTON, PA - Cigar Advisor, the nation's premiere online cigar magazine, proudly serves cigar enthusiasts with a uniquely down-to-earth perspective on the enjoyment of premium cigars. Newly published is a feature article by Managing Editor John Pullo, "2015 Cigar Advisor Report: Top Small Cigars for Winter Smoking" -- this week's addition to the magazine's acclaimed educational cigar content and behind-the-scenes industry articles from some of the business's top names. Cigar Advisor has delivered this cigar tasting guide for those who enjoy the cigar lifestyle, just in time for winter.
"Just because you're short on time doesn't mean you should sacrifice on quality," says John Pullo, Cigar Advisor Managing Editor. He's released a tip-filled guide to small ring gauge cigars that, in his words, "are like rations on the war front...necessary to your cigar survival in the face of the harshest elements; a little taste of sanity and big flavor in a short, frostbite-free amount of time."
Winters in the northern half of the United States can be a hard time for cigar enthusiasts, Pullo says. "Any given Summer night, you can be outside on the patio enjoying a cigar for a few hours. Come wintertime, any longer than 30 minutes outdoors really takes the fun out of it." To help cigar smokers get the most out of their shortened smoking sessions, he's recommended 6 small cigars for winter smoking: all under 42 ring gauge, and all "easily and thoroughly enjoyed in under a half an hour."
Among John's picks are CAO's exclusive double maduro MX2 selection; a corona-sized (4 ¾ x 42) version of the legendary Joya de Nicaragua Antaño 1970 blend, plus renowned cigars from Rocky Patel, Romeo y Julieta and Oliva Cigars. "An outdoor wintertime smoke may be a shorter experience," he says, "so I'd rather it be more robust -- and highly recommend big-flavor small cigars like these."
Because "there are many benefits to a small smoke," Pullo has also included a series of tips cigar enthusiasts can use to get the most enjoyment from the small ring cigars he's selected: "Smoke slow, draw shallow -- if you puff too hard, a small cigar can overheat quickly." To see John's picks and benefit from more of his cigar smoking suggestions, read the full article now at CigarAdvisor.com.
About Cigar Advisor Magazine:
Cigar Advisor magazine is a digital publication created by, and for, real cigar enthusiasts. The Editors strive every day to accomplish three goals: welcome novices to the hobby of cigar smoking with advice and open arms; share their tobacco-rich lifestyle with good friends and veteran smokers alike; and profess their love for a good smoke with cigar enthusiasts of all stripes, from around the world. Cigar smokers are a passionate bunch -- and whether it is food, drink, sports or cigars they're fanatical about, Cigar Advisor shares those passions with a razor-sharp edge. Find that passion and more on display at www.CigarAdvisor.com.
Image Available: www.marketwire.com/library/MwGo/2015/11/13/11G071997/Images/WINTER-60ac49ec56cab653ab1c3e32e674e295.jpg
Source URL: http://www.marketwired.com/mw/release.do?id=2073798&sourceType=3
Share: