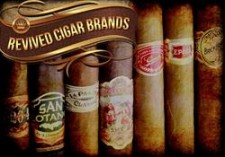 Online, September 10, 2015 (Newswire.com) - EASTON, PA - La Palina, Gispert, 7-20-4, Brick House; these are just some of the great cigar brands of the past brought back from obscurity that are now enjoying success in today's ever-expanding premium cigar market. In his article, "Reincarnation: A Second Life for 7 Cigar Brands," Cigar Advisor managing editor, John Pullo, gives cigar enthusiasts a peek into the origins of seven cigars that were produced in both Cuba and the United States during the "Golden Age" of cigars, from the mid-1870s to around 1920. In the U.S. alone, there were 26,000 registered cigar factories, making in excess of 8,500,000,000 cigars per year before the World War I.
One of Mr. Pullo's resources, Tony Hyman of The National Cigar History Museum, cites that there have been over 2,000,000 different cigars brands and boxes of cigars throughout the modern age of smoking. Of those 2 million plus, a relative fraction remains, even though the selections in the current market seem almost limitless. Pullo also points out that, if a given cigar smoker has smoked 500 different cigar brands in various shapes and sizes, they've only smoked .00025 of the cigars out there throughout history, or about 1/4000th of the total ever available.
"Many of those U.S. marques were clear Havanas whose brand owners were put out of business by the Embargo," writes Pullo, "or companies so small that today's boutiques would look like Ford or Chevrolet in comparison."
However, more than a modest number of cigar brands from the "Golden Age" made in Cuba and elsewhere have been revived by several savvy cigar makers who have found inspiration from the past, even though they were not able to use Cuban tobacco in the "rebooted" Cuban cigar blends.
The article touches on Brick House by J.C. Newman. Now made in Nicaragua, although the company was based in Ohio, the cigars were made in Cuba and debuted in 1937. 63 years earlier, Roger Sullivan opened his Manchester, New Hampshire-based cigar factory in 1874 and created the 70-20-4 cigar brand. Revived by Kurt Kendall and now made in Honduras, Sullivan's original cigars sold for 10¢ a stick. During the 1940's Simón Veja Peláez began production on a Cuban handmade tribute to a local man named Gispert, but by 2003 the Cuban version was obsolete, only to be rebooted by Altadis USA that same year in Honduras. Founded in 1896 by Samuel Paley, La Palina cigars are about as American as apple pie and baseball. Paley's son William joined the company in 1910 as its head of marketing, but later left the company for a career in broadcasting. It wasn't until recently that his son William Paley Jr. revived the family brand, and today La Palina is considered one of the world's most successful luxury cigar brands.
Pullo's list also includes revivals of San Lotano by A.J. Fernandez, La Antiguedad by Don Pepin Garcia, and Epoca by Nat Sherman. Cigar smokers can also try all seven in a specially-made, limited edition "Revived" cigar sampler.
"I wanted both new and experienced cigar smokers to know a little more about the roots of these brands, all of which have made a prosperous transition back into the current mix of non-Cuban cigars," said Mr. Pullo. "I certainly learned a lot, and I hope readers will discover a new found appreciation for them as well." To read Mr. Pullo's article in its entirety, click here.
About Cigar Advisor
Cigar Advisor, the nation's premiere online cigar magazine, proudly serves cigar enthusiasts with a uniquely down-to-earth perspective on the enjoyment of premium cigars. Well-known and highly regarded for providing acclaimed educational cigar content and behind-the-scenes industry articles from some of the business's top names, the Cigar Advisor editors deliver an array of content that speaks directly to those who enjoy the cigar lifestyle.
Image Available: www.marketwire.com/library/MwGo/2015/9/9/11G053385/Images/REVIVED_CORRECT-823355299760.jpg
Source URL: http://www.marketwired.com/mw/release.do?id=2054639&sourceType=3
Share: